Have You Been Charged with Hunting on Private Land?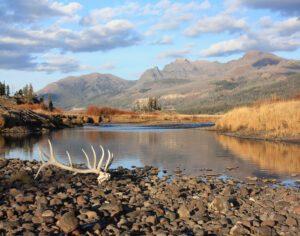 Hunting on private property is a great opportunity for those who love the sport. But doing so requires not only permission from the landowner, but written proof on your hunting license of that permission. What do you need to know about hunting on private land and what happens if you're accused of doing so without permission?
Approximately half of all land in Wyoming is privately owned. This means to hunt on it you must have the owner's permission. Many Wyoming landowners allow hunting on their private property because it helps them control the wild animal population. But without permission from the owner, you can get into a lot of trouble hunting on land, even if you don't realize you're on private property.
Wyoming Incentivices Private Property Owners Who Allow Hunting
One of the reasons private property hunting has increased in the last decade and a half is due to three Wyoming Game and Fish Department programs that provide incentives to landowners who allow access to hunting. The programs affect fishing on private property too.
The programs include:
1. The Hunter-Landowner Assistance Program puts landowners on a list after they report mountain lions and an overwhelming amount of critters on their property. The program connects hunters and landowners on this list to help with animal control but keep access to their land limited.
2. The Hunter Management Area Program provides a cash reward to landowners who permit Game and Fish staff to manage access to their private land. How much a landowner receives is based on the number of acres they enroll in the program. Land must offer access to big and trophy game hunting.
Under the program, landowners sign an agreement that covers boundaries, parking, and access roads. Owners receive $1260 per year for a 1000 acres access. The amount increases after five years of access. Owners might receive bonuses for each year they participate in the program. The program provides signage, patrols, and liability immunity to landowners.
3. The Private Lands Public Wildlife Access Program offers financial compensation to landowners who lease tracts of land to the state for hunting. Additionally, people using the land are encouraged to donate to the program. Donations to the program totaled more than $200,000 in 2015.
Programs Protect Hunters and Landowners
Hunting on land owned by people participating in these programs means you have legal coverage should an issue arise. It's important to review the parameters of the programs in advance. Make sure you understand your responsibilities as a hunter.
But what happens if you're caught hunting on land that is not part of these programs?
These programs are great for expanding access to private land hunting. But for some, they create confusion regarding private land access. Add to that that laws tend to be confusing and unclear for those who are not experienced hunters. Your best bet is to stick to public land unless you know you have proof of permission to be on private land. Unfortunately, with the vast wilderness in the state, it's easy to wander into unmarked areas without intending to.
How an Attorney Helps You Deal with Accusations of Violating Wyoming's Fish and Game Laws
Working with an experienced defense lawyer if you are accused of violating private property rights while hunting ensures your rights are protected. Nobody should have their life upended because of a mistake they make while enjoying the great outdoors.
In addition to the complicated laws, you're also dealing with a variety of entities when accused of a hunting crime. In addition to the private landowner, you'll be answering to the state's wildlife commission. You need as much support and guidance as possible if you find yourself in this situation.
If you'd like to know more about all potential violations of Wyoming wildlife violations and potential penalties, check out this information from the state's Game & Fish Department.
To speak to someone about private property violations while hunting or you have questions about laws regarding hunting in Wyoming, contact David Lindsey to schedule a free consultation.
Our Location
Downtown Denver Office Also Available
7887 E Belleview Ave
#1100
Greenwood Village, CO 80111
Get in Touch
Fill out the contact form or call us at
(303) 228-2270
to schedule your free 30-minute consultation.
Free 30-Minute Consultation

Available 24/7

Messages From New Clients Returned Promptly